What is Warehouse 49?
We are cool, we promise.
Warehouse 49 has many different objectives but one main mission.
Bring gamers and geeks together in a safe, fun atmosphere.
Objectives
At least some of them
Our Dream
And hopefully yours as well
A little about me
As a kid, I can remember dragging my cumbersome CRT TV to a friends house and meeting a few others with their gear. We played video games until our parents made us go to bed, then secretly played for a little longer. Fast forward to my teenage years; instead of going to parties on a Friday evening, I would stay up all night playing Counter Strike: Source, Diablo, and StarCraft. At that time, although LAN parties with hundreds of people were gaining traction, gamers had a bad rap. Gamers were often thought of as being obese, unwashed, living in their parents basement, as well as a slew of other misconceptions. Confession: I did have my computer setup in my parents basement, and yes, maybe by the end of a weekend I needed a shower, but I knew plenty of people who did not fit that stereotype. To this day, in my experience, gamers tend to be some of the kindest people I know. Which is why I never judge a book by its cover…
In college I helped run a successful LAN party and was president of the technology club.  Towards the end of college, I came up with an idea for a gaming center because of a class project. The owner of the IT company that I worked for at the time, saw the opportunity in my project designs and a few months later we opened a gaming center in Eagle River. The model mixed technology with elegance to create a seamless gaming environment. The gaming center quickly grew to be one of the most popular destinations in Eagle River, even attracting Anchorage locals.
I parted ways with the gaming center to serve in the Army National Guard and pursue other opportunities. Although, I continued to dream about and improve upon my original gaming center design.
The stigma surrounding the image of gamers has come a long way since I was that young kid playing on the computer in his parents basement. E-Sports is taking the world by storm and the negative gamer stereotype is fading. The only problem is that the local nightlife has not adapted to the needs of gaming community. While gaming centers have not been uncommon to Alaska, most have failed. This is often due to mismanagement, venue size, and starting capital.
Although I consider myself a gamer, I am an entrepreneur first. I know that it takes more than a love of video games to run a successful gaming business. The Alaskan community is starving for nerdy nightlife. Warehouse 49 answers that call.
Tristan Bellotti
Owner
Warehouse 49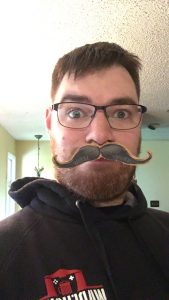 The Warehouse Atmosphere
Warehouse 49's atmosphere will be split into a few main areas. Social Area, BYOPC, Tabletop, and VIP. Overall we will not have loud music nor a dance floor but will be focused on connecting people on a intellectual level whether that be through gaming or stimulating conversation over a nice glass of Klingon Blood Wine. 'IwlIj jachjaj'!
Social Area
The main bar area will be a casual setting meant for social engagement. All the different styles of gaming will encourage social interaction but only if you wish to be social.
Bar
We will have a bar just like any other establishment that serves alcohol and ours will look like a sports bar, setup with plenty of TVs. Unlike a sports bar our TVs will feature E-Sports events and even other people playing in Warehouse 49. We feel that even though you may not want to play games you may still want to watch events in a public place with like minded people.
Bar Tables (To be named something cool)
We plan on having the traditional round bar tables with a twist. The middle will have a pole with a few TVs attached where you can play games with a group of friends or go stag and find an empty chair and game with people playing the same games you like. Just feel like chatting with your friends? Raise the TVs up and you have a traditional bar table. Best of all, either direction you go you have easy access to your drinks and food right there on the table. Our bar tables will all have coat hooks underneath for your personal belongings and outlets to charge your phone.
Gaming Pods
Think of gaming pods like cubicles for gamers. Take a line of cubicles and make them out of something that isn't going to give you PTSD of your prison cell cubicle from work. Now instead of a monitor on a desk, by the way we got rid of the desk, we put a large TV mounted to the wall. On the right side a small shelf, to put your phone and other small things, with an outlet next to it so you can charge said phone. Closer to you on the wall there will be cup holders for your drinks. To the left of the TV we will  have a coat hook for your personal belonging so you never have to lose sight of your loot while you are immersed in your favorite game. Picture yourself in a reclining chair and a foot rest in front of you to put your feet on, if that is your thing. This is where things get really cool. Our gaming pods will be split into two, four pod segments. One segment will have half height walls so you can see the person on either side of you playing. This is great for CO-OP. The other segment will have full height walls so you cannot see the player's screen next to you. This will be great for free for all and solo games. Depending on the size of the venue and popularity at first we are looking at 4 segments totally 16 pods.
Couch Pods
A lot of people were not convinced we could improve upon the couch experience. No matter how hard we try we cannot allow people to game in their underwear. In a public setting that is weird and not very sanitary. We found a better way to improve on the idea! Instead of everyone sharing one screen we will have 4 screens so no one has to share a TV. Also our couches will seat 6 so there is plenty of room for any accompanying guests. We will even have a table for you to put your drinks and food on. You won't be locked into one console either, we will have both Xbox and PS consoles to choose from.
Bring Your Own PC (BYOPC)
Our BYOPC area are for those people who wish to bring in their own gaming systems. Designed for our gamers with computers our BYOPC area has open seating with plenty of room to set up your rig no matter how big it is. The room will be split into two halves to allow teams better separation from each other. On the infrastructure side of things each device will have a gigabit connection to a switch that will have 10 gigabit backbones to our server room. When you download new games or updates instead of getting them from the internet we will have a caching server that will keep commonly downloaded games on the ready. What does that mean? You will be able to get new games and downloads a lot faster.
Tabletop
We want to give tabletop gamers a better experience overall. This is why we are designing our tabletop tables from scratch. No more will you have to roll out your card mat because our tables will feature a felt top which will help protect your cards from scratches. Playing something that requires more room? Our tables will have wood boards that will lay snugly on top of the table to create a flat surface for any games that needs more surface area. Our tables will have drink holders, phone chargers, and a D&D nook. Don't want to bring your favorite tabletop game? We will have a large stock of board games, card games, and even supplemental books, terrain, figurines, character sheets, dice, and more to rent out. Want to stream your tabletop games? We will have video options for the tables too!
VIP
What gaming venue would be complete without VIP rooms? We will have multiple VIP rooms with various setups for all occasions. From 6 screens on one wall for teams wanting to practice to a projector screen on the main wall and big screen TVs on the side walls for birthday parties. You will be able to reserve a VIP room ahead of time and each VIP room will have access to all the consoles we offer from current gen to first gen and everything in between. VIP rooms are perfect for family game night with Rock Band or Mario Kart or CO-OP Left for Dead survival!
Side Quest
Want to learn more about how things will look and other information? Check out these beta pages. Please note that all details are not set in stone and more than likely will change.
Technology
Warehouse 49 will be advanced for a gaming center where you will find technology that is usually implemented in very large LAN parties and data hungry organizations. You take gaming seriously and we want to show you that so do we.
Endpoint Cabling
A lot of people don't think about how they connect their devices to a network. Although consoles don't normally have a slew of peripherals and devices attached to them computer gamers often do. With so many different configurations there is no way to tell if something is going to give off interference and cause connectivity issues. This is why all our copper cables will be CAT6 ethernet. What this means is that there will be less possible issues due to interference. Of course we can't say that much for the rest of your gear we can at least limit the possibility of issues from our equipment.
Access Switches
We are going to have room for a lot of people who are all going to access the internet. Connecting each person to the internet directly is just not practical. We need to have a core switch that connects access switches which connects all the computers and consoles. Our switches will be enterprise grade and will connect to the core switches using super fast multi-gigabit (10gb) fiber optic uplinks. Think of it this way, we will have about 48 single lane roads connected to a 20 lane superhighway, less congestion during rush hour. Traditionally you would see the 48 single lane roads share 2-4 lane highway. For another comparison everything at home normally shares single, two way lane roads.
Core Switch(s)
Connecting hundreds of devices over super fast links takes some serious hardware and it takes an equally serious switch to move all that data. We will have 10GB core switches to move all that data around. This includes to and from our on premise servers and to our main router all with 10gb links.
LANCache
To make sure no one person uses up all of the internet by downloading a game or watching a 4k movie we limit the internet connection any one person can use. You may ask yourself why we made a big deal talking about fast switches and fiber if we just limit things. This is because we are going to implement caching. Basically when someone wants to download a game or get an update they will automatically get it from our servers which will be able to get the game faster, than your device, from the internet. The caching server will keep the downloaded game or update and when someone else wants it, instead of going back out to the internet it will serve the local copy it has at the fastest possible speed. This will significantly reduce the internet usage/congestion when updates come out or when people want to download a new game and allowing full 1gb speed of previously cached content.
Local Game Servers
We don't have to tell you how important ping/latency is for gaming. Because of our location compared to the continental United States we inherently have larger latency especially with most of the servers being also in the lower 48. We want to host as many local servers as we can to try to speed up connections and reduce latency as much as we can. This also allows us to offer dedicated servers for in house events and gamers with certain sponsorship levels.
Router
At the heart of our network will be our router. Not your average home or small business router. Our router will be built from the ground up being able to support multiple internet connections that allow data to get out of our network as fast as possible. In case of a modem failure our router will automatically switch connections to the other working modems so that you see the least amount of downtime if any at all. We have already implemented a version of this in our LAN in a Box, portable LAN party system.
WiFi
Any gamer will tell you that you may as well pack up and go home if you have to user wireless. But phones, tablets and certain models of laptops do not have an ethernet port. Our wireless access points will be enterprise grade and will allow for many more users without slowing down compared to your home wireless router. We still don't recommend wireless for competitive gaming but if you have to use wireless it won't be as bad.
Keeping up with the times
Warehouse 49 will continue to invest in technology to make our gaming environment better. Some planned technology innovations were intentionally left out of these sections because they were either still in the research phase, too technical, or we just want to keep it a secret for now. We will add more to this page as we polish the details on projects.
I have an idea!
Great! We love to hear what you think. You can let us know what you think by filling out our contact form.